Jobs & Economy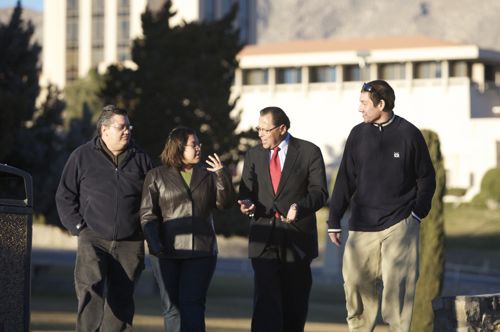 While El Paso is making significant economic gains, its low tax base, high unemployment, and lack of high paying jobs are a barrier to economic prosperity. Young college graduates are unable to find sufficient job opportunities and leave, while other workers find only low wage jobs. In addition, far too many students never even finish high school.
José will work to expand El Paso's economy by supporting development of new, emerging industries that will provide high tech, high wage, environmentally clean jobs, such as the growing health care industry, defense related industry attracted by the expansion of Fort Bliss, and a viable alternative energy industry. José will also support development of public and private job training programs including apprenticeship programs; payment of prevailing wage rates in public works projects; and livable wages for all workers.
To help the District 29 State Senate office create legislative proposals José has established the Jobs & Economic Development Advisory Committee.
This committee was formed in February, 2012. It continues the work begun by the Advisory Committee on Increasing Jobs & Reducing Poverty which had several meetings in 2011. The meetings held in 2011 focused on reinforcing the pathways to successful jobs and careers. Another major component of financial stability that was identified was financial literacy and various financial literacy training modules were examined by the group.
The committee has been re-structured in 2012 into two distinct groups, both of which reflect José's priorities. They are jobs created by the renewable energy sector, which we refer to as "Green Jobs," and job creation generated by tourism that capitalizes on District 29′s extensive historical assets.
In the 82nd Legislature, José authored the following legislation:
•Wage enforcement: Addresses non-payment of wages when workers only receive periodic or partial payment for work performed. This is a problem that greatly impacts many workers in the construction industry and day laborers. [Senate Bill 1024]
•Fort Bliss sales tax: Allows the City of El Paso to receive a portion of the sales tax revenue collected at Ft. Bliss' Freedom Crossing shopping center and other retail businesses on the base.** [House Bill 205*]
•Financial literacy: Requires the Office of Consumer Credit Commissioner (OCCC) to compile information about financial literacy into a one-page document and post that document on the office's website, which will help educate more Texans on money management and how to raise their credit score, deter bankruptcy, plan for the future, and contribute successfully to the Texas economy. [House Bill 2615]
•Monticello Management District: Creates the Monticello Municipal Management District No. 1 in El Paso to promote housing and economic development.** [House Bill 3831*]
Jobs & Economy News and Statements
[catlist id="17″ date=yes date_tag=span date_class=lcp_date numberposts="10″]