Education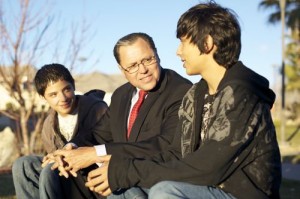 A former migrant farm worker, José understands that education is the key to individual and community success.
Various measures indicate El Paso, and the State of Texas, rank below national average indicators — examples include per pupil expenditures, teacher pay, and Hispanic high school and college graduates.
El Paso and Texas will be unable to compete in the global economy if we fail to develop an educated, well trained workforce. José has worked to improve educational opportunities by adequately funding public education; cutting our high drop out rates; supporting and enhancing early childhood education programs; increasing college financial aid; increasing teacher salaries; expanding job skills training; and obtaining Tier I status for El Paso's universities.
To help the District 29 office create legislative proposals José has established the Citizens Advisory Committee on Education. Over the past several years the committee has focused on: School finance; increasing graduation rates for El Paso's students from colleges; strategizing to increase parental awareness-involvement; and advocating for more accurate assessment of student performance (SAT or ACT score based, rather than TAKS).
In the 82nd Legislature, José authored the following legislation:
•Speech-language licensing: Changes the educational standards for licensure for speech-language pathologists or audiologists from a Master's degree in communicative disorders to a Doctoral degree in audiology if the program is accredited by a national accrediting organization approved by the board. This bill allows current audiologists who have Master's level degree to continue to practice. [Senate Bill 613]
•Online GED: Requires the State Board of Education to develop rules and procedures to administer the General Education Equivalency (GED) exam online, including procedures to verify the identity of the test-taker. [Senate Bill 1094]
•School district consolidation: Requires school districts in El Paso County to meet to discuss consolidating their law enforcement and security personnel in order to determine whether any cost savings could be realized if consolidated. [ House Bill 1254*]
•Parenting classes: Increases the maximum number of hours that parents may be away from their child from 12 to 15 hours a week to attend child parenting classes so that parents may satisfy the Texas Education Agency's program requirement of 60-65 hours of instruction per month. This bill will only affect programs in El Paso, including Avance. [House Bill 3051*]
Education News and Statements
[catlist id="15″ date=yes date_tag=span date_class=lcp_date numberposts="10″]