José's Story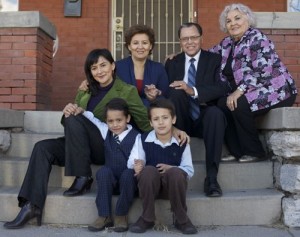 In November 2010, José Rodríguez, an attorney who has devoted his life to public service, was elected to serve the people of Senate District 29 in the Texas State Senate.
The son of migrant farm workers, he was born in Alice, Texas, and from an early age worked in fields throughout the country to help support a family of nine. Since 1983 he and his family have made their home in El Paso, where they have been deeply involved in civic, economic development and human rights activities. Senator Rodríguez graduated from Pan American University in Edinburg, Texas, where he served as student body president in 1971, and received his law degree from the National Law Center at George Washington University.
Senator Rodríguez began his 38-year legal career as a staff attorney with the United States Department of Housing and Urban Development in Washington, D.C., serving under the Ford and Carter Administrations. He practiced law as a partner with the firm of Rodriguez, Lewis & Collins and worked for 10 years as a staff attorney and director of the farm worker program of Texas Rural Legal Aid, Inc, a statewide legal services program. He also served as Legal Advisor to the El Paso County Judge Alicia Chacon, the first female Hispanic elected to the position.
Immediately prior to his service in the Texas Senate, Senator Rodríguez served as the El Paso County Attorney for 17 years, where he established an unequaled record of achievement, promoting education, enhancing legal services to protect vulnerable citizens and prevent crime, increasing County revenues and funding for jobs and economic development, and strengthening community health and environmental quality.
That level of service to his community continues today as a member of the Texas State Senate.
During the 82nd Legislative Session and subsequent 1st Called Special Session, Senator Rodríguez became widely known as a staunch advocate for those in need, especially those seeking help through legal aid and indigent defense programs. He also proved himself an effective voice for the people of El Paso and District 29, passing numerous pieces of legislation directly affecting the region. [Read Senator Rodríguez's statement regarding why he ran for office]
As a freshman legislator in 2011, Senator Rodríguez passed 41 bills related to education, health care, economic development, renewable energy, public safety and the courts, ethics and government transparency, and the military. His hard work and tenacity on the Senate floor gained him numerous accolades, including being named "Freshman MVP" by the highly regarded online publication, Capitol Inside; "Legislative Hero" by Texas Access to Justice Foundation; "Best of Senate" by the Combined Law Enforcement Association of Texas; and "Advocate of the Year, Elected Official" by Texas Association for Education of Young Children. [The 82nd Legislature]
During the 2013 legislative session, Senator Rodríguez continued this remarkable record of achievement. He passed 50 bills and two concurrent resolutions into law. The bills included local priorities with statewide impact — including the transformation of the Texas Tech University Health Sciences Center at El Paso from a branch of the Lubbock-based health sciences center to an independent, standalone university component of the Texas Tech University System — as well as a series of bills to address cheating and accountability in standardized testing. Senator Rodríguez also passed a number of local good governance bills and significant statewide laws dealing with family law, guardianship, probate, trust, and criminal justice issues. The Family Law Section of the State Bar of Texas recently named him Legislator of the Year for his efforts to protect those involved in family law disputes.
Senator Rodríguez also advocated for adequate funding for public education, investment in higher education, and access to health care. In addition, he fought against efforts to draw electoral lines that diluted minority voting strength, and he has championed equal rights for women, minorities and the LGBT community. In recognition of these efforts, Equality Texas named Senator Rodríguez a "Champion of Equality." [The 83rd Legislature]
Senator Rodríguez serves on the following committees in the 84th Legislature: