Setting the Agenda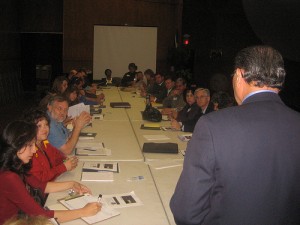 Elected officials spend much of their time identifying issues and working with stakeholders to set policy priorities, then crafting proposed laws and working through the complex legislative process. You can help set the agenda for District 29 by learning about the process and participating in State Senator José Rodríguez's series of meetings designed to solicit community input and ongoing engagement.
One of the first things to understand about the legislative process is the calendar. Here are some key dates to keep in mind:
February – June, 2012: District 29 meetings to obtain citizen input for legislative agenda.
July – October, 2012: District 29 bills drafted and vetted.
Nov. 12, 2012: First day to pre-file bills for the 83rd Legislative Session.
Jan. 8, 2013: First day of 83rd Legislative Session.
Although the Texas Legislature meets every other year, elected officials are at work constantly. One of the ways in which they prepare is via interim committees. Senator Rodríguez serves on the following committees, which have extensive interim charges as they prepare for the 83rd Legislature in 2013:
•Jurisprudence, Vice Chair
•International Relations & Trade
•Veteran Affairs & Military Installations
Help District 29 Set the Agenda
The effort to bring the community into the legislative process involves two parallel tracks:
1) A series of Citizens Legislative Town Halls, at which district residents receive updates on legislative activities and take part in developing priorities. The meetings are occasions to participate in community dialogue, build connections, and learn from one another, as well as to focus on the legislative process.
2) Ongoing meetings of District Advisory Committees, groups of policy experts and stakeholders that help set district priorities as well as working to create and promote legislative proposals. The committees provide constituents a forum to discuss and provide input regarding policy, legislative, and regulatory issues pertinent to Senate District 29.
The committees are:
•Jobs & Economic Development [Includes Heritage Tourism and Green Jobs]
Citizens Legislative Town Halls and District Advisory Committee meetings are scheduled throughout El Paso County throughout the spring and summer. From July to October bills will be drafted, revised, and vetted for November filing for the 83rd Legislative Session.
•2012 Citizens Legislative Town Halls schedule